Confession: it took me way longer than it should have to come up with the name for this dish.
My mom has actually been making it as long as I can remember, I just wrote it down and made a few tweaks (thanks, mom!), but calling it "Julie's Potato Salad" isn't all that sexy (sorry, mom). I also felt weird about calling it a Greek potato salad because I'm pretty sure they don't eat this in Greece and anyone from there would probably be annoyed at the name. But it's got all the tasty Greek things: feta cheese, Kalamata olive, red wine vinegar dressing...so here we are (sorry, Greeks).
Enough about the name, let's talk potato salad. This version is anything but traditional. Instead of a heavy mayo-based dressing, I've swapped it out for a light and bright red wine vinegar dressing that is zesty and delicious. Parsley and green onions add a much-needed fresh note that I find is missing from most potato salads. And Kalamata olives and feta cheese make it deliciously rich and salty.
This is my go-to dish when I get invited over to someone's house during the summer and need to bring something with me. It's always greeted with rave reviews and requests for the recipe. So if you want to be the next backyard BBQ hero, give it a try.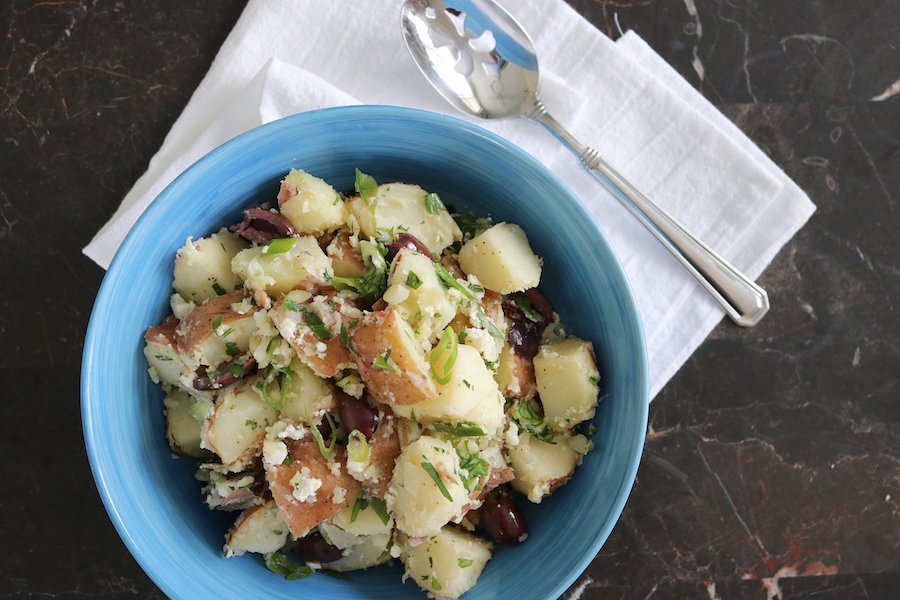 Ingredients:
4 lbs red bliss potatoes (yukon gold works too)
2 whole green onions (aka scallions), sliced thinly
3 tbsp (¼ bunch) flat-leaf parsley, chopped
5 tbsp Feta, crumbled
¾ cup pitted Kalamata olives, sliced
Notes:
For dairy-free or Whole30, omit cheese

For low FODMAP, omit cheese and use only green part of scallions

How big you cut the potatoes is up to you, as it depends on your preference and the size of the potatoes you bought. I would caution against going too small or they might fall apart in the cooking water.
Dressing:
¼ cup + 1 tbsp extra virgin olive oil
¼ cup + 2 tsp red wine vinegar
½ tbsp Dijon mustard
1.5 tsp sea salt + ¼ tsp pepper
(I recommend organic ingredients when possible, here's why.)
Instructions:
Cut the potatoes into bite-sized pieces and cook in a large pot of boiling water with 2 tsp salt, until tender, approx 12-20 min, depending on the size of the potato pieces.
While potatoes are cooking, make the dressing. Combine all the ingredients for the dressing in a blender and blend on high for 30 seconds until completely combined and smooth. Conversely, you could put all the ingredients in a bowl and mix well with a whisk, I just think the blender does a better job.
When the potatoes are done cooking, drain and place into a large mixing bowl.
Add scallions, parsley, feta, and olives.
Pour half of the dressing onto the potatoes and stir a few times to make sure it's covering everything.
Cover bowl and place in fridge until potatoes are completely cooled (1-2 hours).
Just before serving, pour the second half of the dressing over the potato salad and mix well.
Enjoy!