Ever seen garlic scapes at the farmer's market or grocery store and thought: "WTF are those?" Same. But after getting them in my CSA box for the last 3 weeks in a row, I couldn't avoid them any longer.
But seriously, what the heck are they?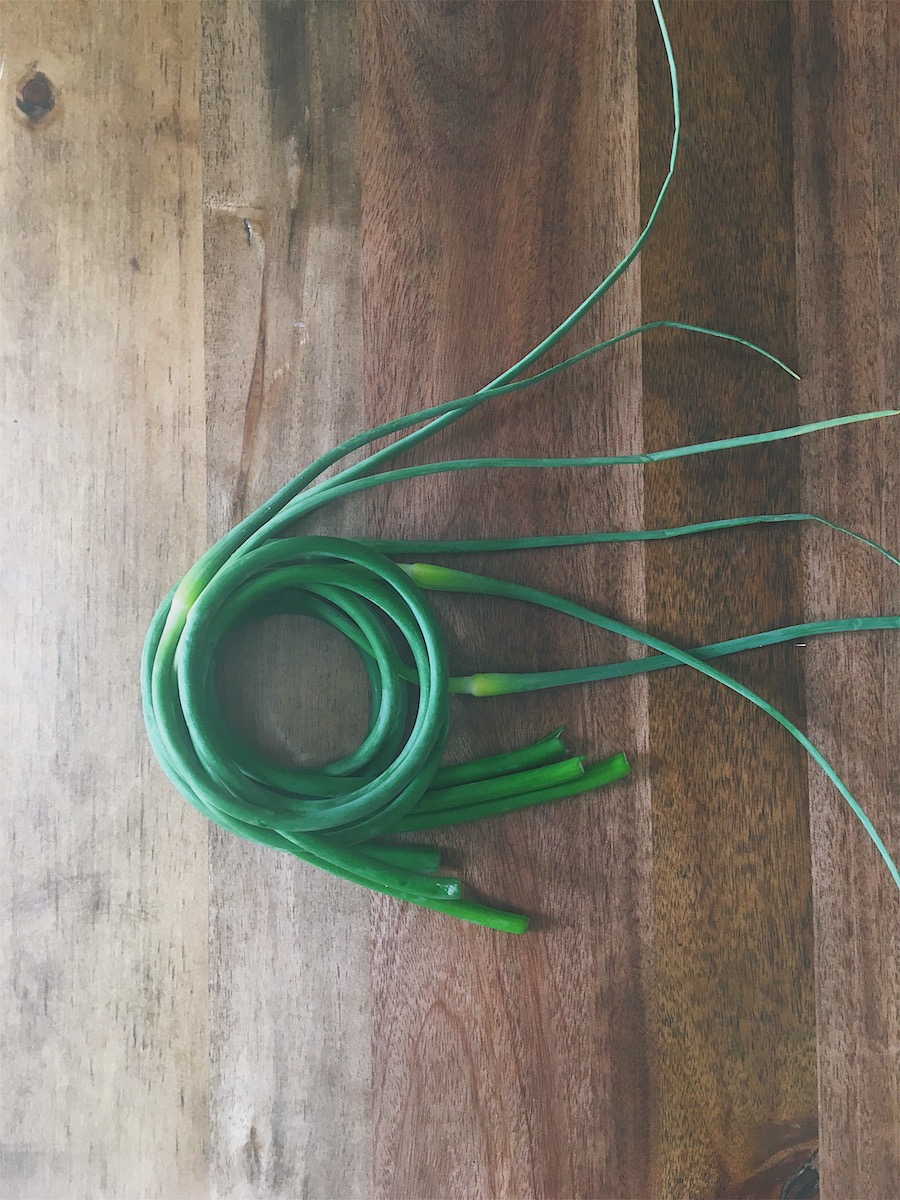 Well after some quality time with google, it turns out I was being a big baby, because garlic scapes are just the flower bud of the garlic plant. They get removed in the late spring to encourage the bulbs to thicken up. It also turns out they are delicious! They taste like garlic, but with a more mellow flavor that isn't quite as harsh as garlic cloves.
They're also super versatile. You can sauté them, grill them, or put them in a soup. However, if it's a Tuesday at 5pm and you're feeling lazy like me, you can also just put them in a blender with some things and hope it turns out delicious. (spoiler alert: it did.)
I'm calling this a salad dressing, but you could also put it on fish or roasted veggies and I bet it would be delicious.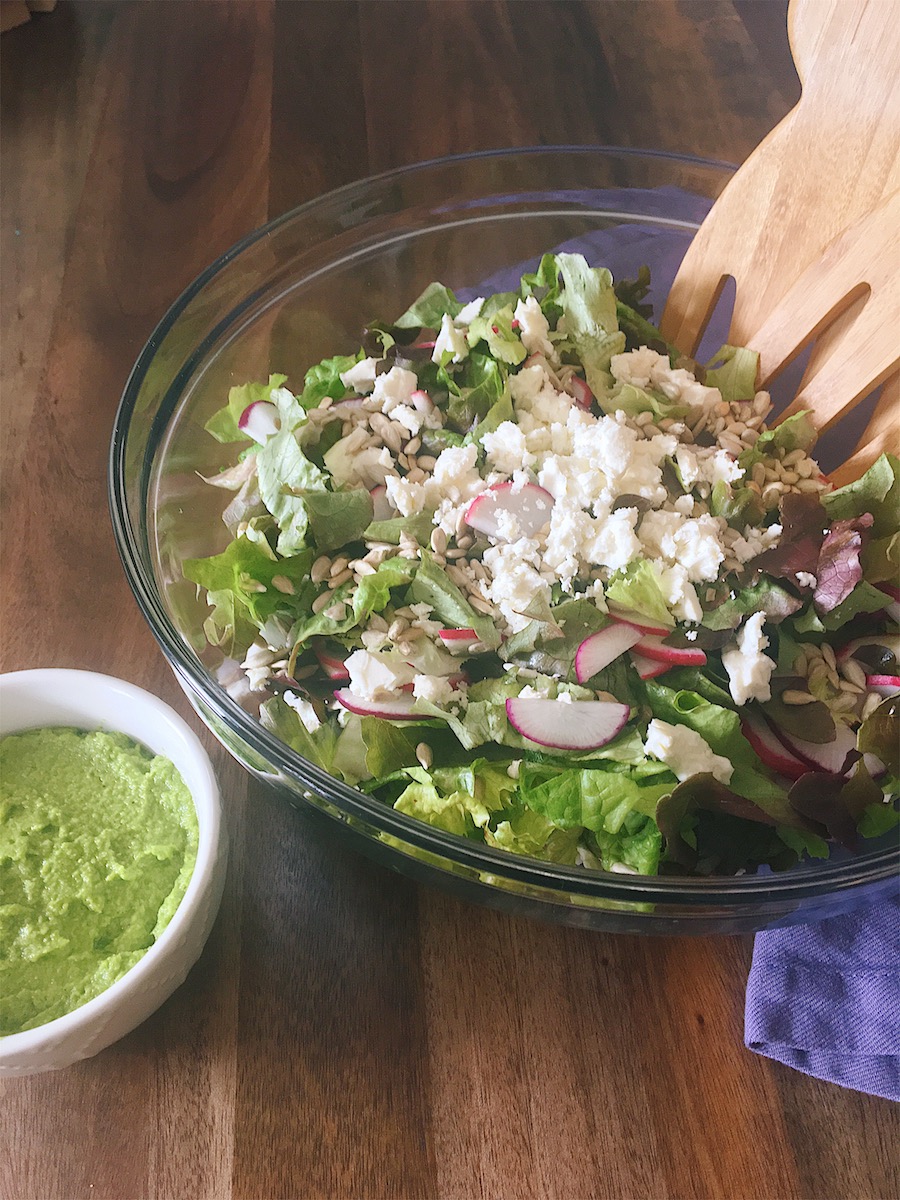 Ingredients:
For dressing:
⅓ cup (35g) chopped garlic scapes
½ cup extra virgin olive oil
4 Tbsp champagne vinegar
Pinch sea salt + pepper
For salad:
1 head lettuce (I used red butter leaf, but any type would work)
1 cup (100g) radishes, sliced into half moons
4 Tbsp raw sunflower seeds
⅓ cup (65g) feta cheese, crumbled (omit if you are dairy free)
1 ripe avocado, cubed
Instructions:
Preheat oven to 275°F (135°C). Roast sunflower seeds on parchment-lined baking sheet for 15-20 minutes, stirring occasionally, until they are golden brown.
Prepare dressing by adding all dressing ingredients to a high-powered blender (I use the nutribullet) and blend for 1 minute on high until smooth. You may need more or less oil depending on how much moisture is in your scapes. Taste and adjust flavor as needed (adding more salt for saltiness, more vinegar for tartness, or more oil for a less intense flavor).
Wash the lettuce and slice into strips or break into bite-sized pieces.
Assemble salad in large bowl starting with lettuce, then topping with radishes, sunflower seeds, feta, and avocado and toss with dressing.
Note: Depending on how much lettuce you end up using, you may need all of the dressing or only some. Leftover dressing will keep in the fridge for up to 3 days.
Health Benefits:
Sunflower seeds are a great source of protein, vitamin E, magnesium, selenium, various B vitamins, copper, and fiber. Deficient intake of these important nutrients has been shown to be linked to increased risk of heart attack and stroke, and selenium in particular has anticancer and anti-inflammatory properties.
Radishes are high in vitamin C, fiber, potassium, and cancer-fighting compounds such as sulforaphane. They've been used as a medicinal food throughout history for liver disorders and to help improve digestion.
Avocados are a wonderful source of monounsaturated fat, vitamin E, fiber, and B vitamins. They are also extremely high in potassium – one avocado has two to three times the potassium of a banana!
Source: Murray, Michael T., Joseph E. Pizzorno, and Lara Pizzorno. The Encyclopedia of Healing Foods. Time Warner International, 2006.