I'm going to address the elephant in the room right off the bat: It's pretty near impossible to get cauliflower soup to look sexy in a picture. It just is.
Ok now that's out of the way, please don't let its drab appearance put you off from making it - it honestly is delicious!
I love this soup for several reasons. First of all, it only requires a few ingredients, which is every lazy person's dream (aka me). Secondly, it's a health food masquerading as comfort food. The cauliflower and cashews give it a creamy feel without any dairy. And the garlic and cauliflower help support your liver's ability to detox and your immune system. Also, bone broth is like liquid gold for gut health, full of healing collagen/gelatin and minerals!
This healthy cauliflower soup is paleo as is, but it's super easy to modify for most dietary restrictions. To make it vegetarian, just sub out veggie broth for bone broth. For completely dairy free, simply use olive oil instead of butter.
Also, please note you do need an immersion blender for this recipe. If you don't already have one, I definitely recommend investing in one if you can as it makes many recipes (and life in general) a lot easier.
Lastly, make sure you don't skip out on the olive oil drizzle and sprinkle of herbs at the end of the recipe! The olive oil adds a nice richness and the fresh herbs really brighten it up, so don't forget this part.
Enjoy!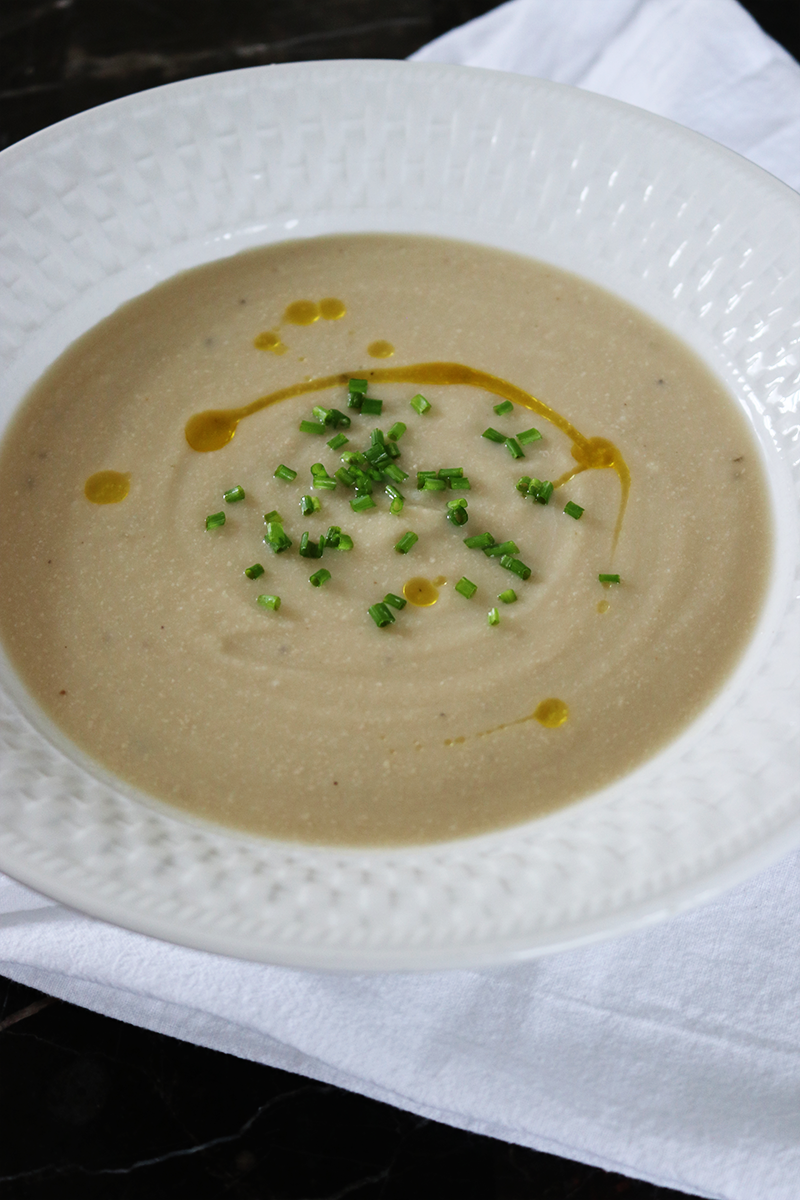 Ingredients:
2 heads garlic
3 Tbsp ghee (or butter)
1 onion, roughly chopped
1 large head cauliflower (6 cups)
½ cup raw cashews (or cashew pieces)
3 cups bone broth
Fresh herbs of your choice (chives, thyme, oregano, tarragon, or parsley would all be good)
Extra virgin olive oil
Sea salt + pepper(Note: I recommend buying organic ingredients when possible, here's why.)
Instructions:
Take cashews and place in a bowl of hot filtered water. Extra points if you soak them the morning of or the night before.
Preheat oven to 400°F. Take the two garlic heads, and peel off any loose papery skin on the outside, leaving the inner skin on and the cloves intact. Slice the top part of the head off the garlic, so the top of each clove is exposed. Drizzle a small amount of olive oil on the exposed cloves. Wrap each head of garlic in parchment paper, either folding it tightly like a package or using twine to tie the top. Put the garlic on a tray or in a baking dish, and cook in the oven for 35-50 minutes, until the garlic cloves are tender and easy to pierce with a fork. Remove from oven and set aside to cool. [note: this step can be done ahead and the garlic kept in the fridge for up to 2 days.]
In a large soup pot over medium heat, melt 3 tbsp of ghee over medium-low. Add the chopped onion and a ½ tsp of salt. Cook, stirring occasionally, until the onions have cooked through and are starting to caramelize and turn brown, 20-25 minutes.
While the onion is cooking, chop the cauliflower into chunks. When onions are browned, add cauliflower, broth, 1 tsp of salt and ½ tsp pepper. Cover and bring to a boil. Reduce to a simmer and cook until cauliflower is very tender and falling apart, 15-20 minutes. About 10 min before cauliflower is finished cooking, add the drained cashews.
When cauliflower is done, remove pot from heat. Add roasted garlic (removed from skin). Blend with immersion blender until completely smooth. Return to stove and let simmer for 10 more min to let flavors meld. Adjust seasonings to taste and serve garnished with a drizzle of olive oil and a sprinkle of fresh herbs.