These pumpkin pancakes don't have any gluten, grains, nuts, sugar, or dairy. Wait wait wait, don't click away! I promise they're still delicious. They definitely hit the spot, and the pumpkin and spices make them perfect for a cozy warm breakfast. They're also super easy to make, don't dirty many dishes, and have just a few ingredients.
The coconut butter adds a little bit of sweetness without having to add any sugar. You can find coconut butter at most grocery stores - it will usually be near the coconut oil or next to the nut butters.
One key to getting a pancake that stays together and is easy to flip is picking bananas that are more on the green side, and less on the super ripe yellow side. The greener a banana is, the starchier it is, which will help keep the pancakes together.
Also make sure you don't make the pancakes too big, or they'll be difficult to flip. These work best as smaller, silver-dollar sized pancakes.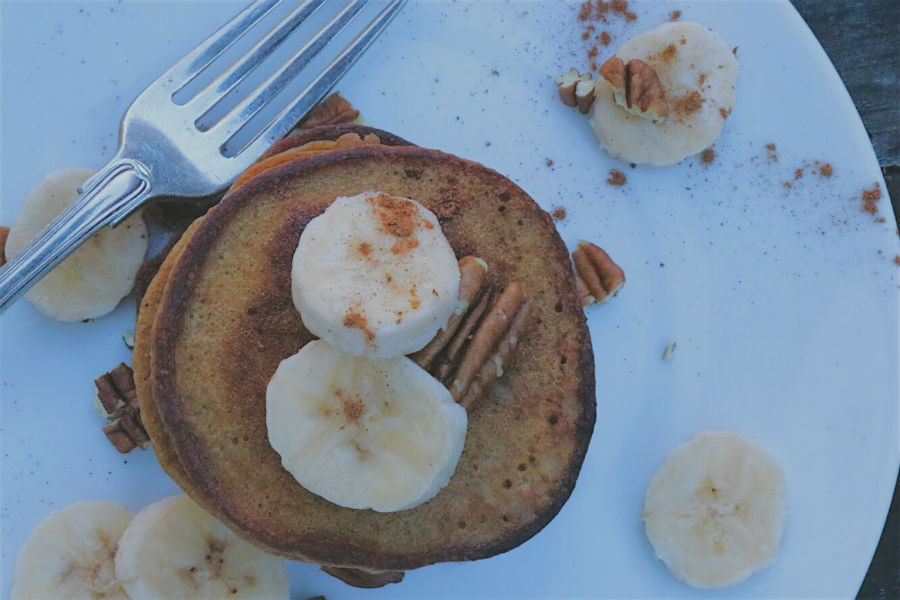 Ingredients:
1/2 cup pumpkin pureé
2/3 cup mashed banana (about 2 small bananas)
4 eggs
2 tbsp coconut butter
1/4 heaping tsp baking soda
1/2 tsp vanilla extract
2 tsp pumpkin pie spice
Instructions:
Combine all ingredients in blender and blend until completely smooth.
Heat pan over medium-low heat (I prefer seasoned cast iron). Once heated (don't rush this step), add a splash of coconut oil to the pan so the pancakes don't stick.
Spoon a small amount of batter into the pan, taking care to not make the pancakes too big, or they will be difficult to flip. Check out the photo above to see how big mine were.
Cook 3-5 minutes until the edges are bubbling and the bottom is starting to turn golden brown, and then flip with spatula. Cook for another 2-3 minutes and then remove from heat.
Repeat with the rest of the batter until it's all used up and you have 12-15 pancakes.
Serve immediately topped with whatever floats your boat. Butter, ghee, melted coconut butter, sliced bananas, pure maple syrup, and/or chopped nuts would all be delicious.
These will also keep in the refrigerator for a couple days, and still taste delicious reheated.