I'm just going to address the elephant in the room right away: I realize half the population hates cilantro with a fiery passion, so feel free to omit it from this salad - it will still be delicious.
This salad tastes like summer in a bowl. The melon and cucumber are refreshing and juicy, and the herbs give it a deliciously fresh note. With hot weather showing no signs of going away any time soon, it's the perfect dish for when you're too sweaty to cook anything.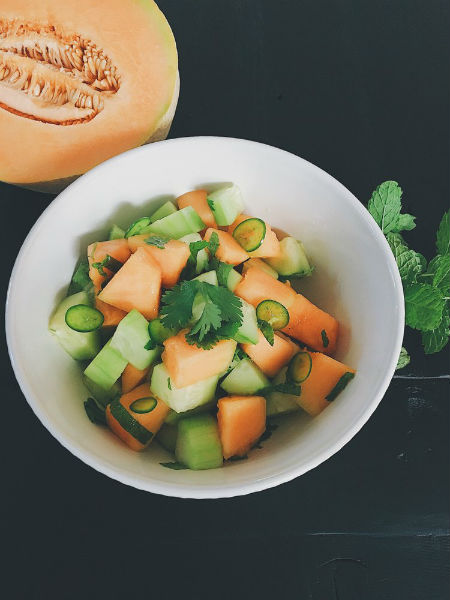 Ingredients:
For Dressing:
2.5 Tbsp rice wine vinegar
1.5 Tbsp light avocado oil or olive oil
For Salad:
3 cups chopped cantaloupe (about half a melon)
3 cups peeled + chopped cucumber (about 1.5 medium cukes)
1 tsp thinly sliced jalapeño
3 Tbsp sliced mint
2 Tbsp chopped cilantro (don't freak out, it's optional)
Sprinkle of salt (also optional)
Instructions:
Add all salad ingredients to bowl. Combine dressing ingredients and drizzle over salad, tossing to coat. Eat it and be happy!