Have you ever craved dessert but were too lazy to go to the store, so you threw together some random ingredients you already had in your kitchen and crossed your fingers that it turned out edible? Welcome to every weekend at my house.
On a rainy Saturday afternoon, I really wanted something sweet but there was a zero percent chance I was changing out of sweatpants and driving all the way to the market. As I gazed forlornly into my pantry, I realized I had a few staples that could maybe be the start of something tasty.
Luckily for me (and you), it was delicious! It's not really like any other dessert I've had, but I'm calling it banana bread pudding because it's moist and gooey like a bread pudding, but it's got all the delicious flavors of a traditional banana bread. It's like a dense, fudgy banana bread had a baby with bread pudding? IDK, either way, it's delicious and you should try it.
It's sweetened with only bananas and a date (no added sugar) and has lots of healthy fats and fiber, so it won't wreak havoc on your blood sugar. Do make sure to use very ripe bananas though, the more brown spots the better. It's also dairy-free and gluten-free (Paleo, I suppose), so just about everyone will be able to enjoy this healthy treat. If you're allergic to nuts, feel free to substitute something else for the almond butter (sunflower seed butter or pumpkin seed butter would both be delicious) and omit the walnuts.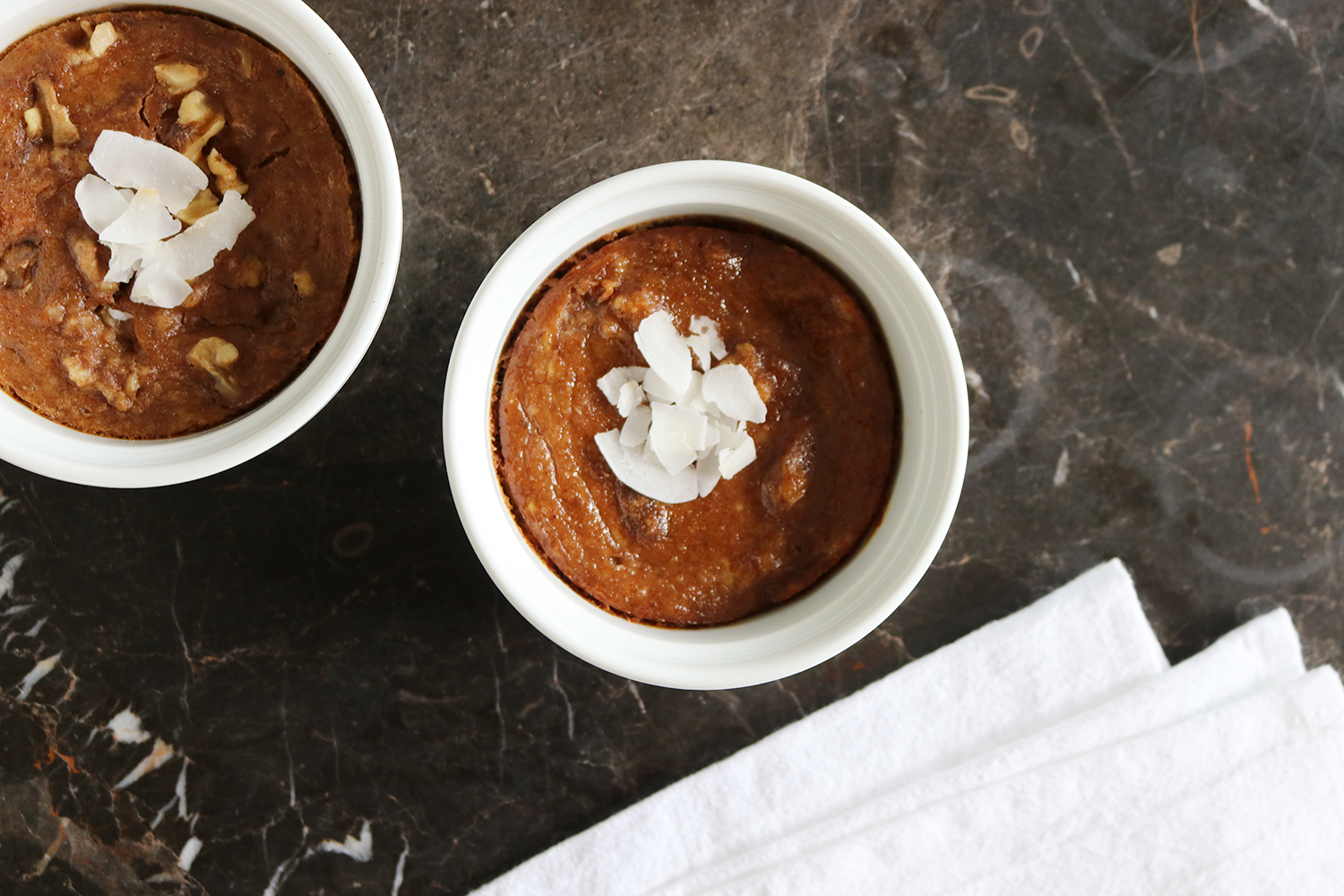 Ingredients:
1 cup mashed very ripe bananas (2-3 bananas depending on the size)
3 tbsp walnuts
¼ cup creamy almond butter
1 tbsp coconut flour
1 tsp vanilla
½ tsp cinnamon
Pinch of sea salt (omit if your almond butter is salted)
1 date (pitted)
Coconut oil
Instructions:
Note: Make sure your date is relatively soft and fresh. If it's pretty hard, you may want to soak it in some warm water before starting this recipe.
Preheat oven to 350°F / 175°C.
Combine all ingredients except walnuts in a blender (I used this one for this recipe) and blend for 30 seconds-1 minute until completely smooth. You may need to stop it once or twice and scrape down the sides.
Turn off the blender. Roughly chop walnuts and add them to the blender cup and stir to mix them in with a spoon (don't actually blend them or they'll get chopped too finely).
Spread a small amount of coconut oil on the bottom and sides of 2 ramekins. Divide the batter between the two ramekins (you may have to use 3 depending on the size of your ramekins) and place on middle rack in the oven.
Bake 25-30 min until batter is set and the top is springy when you press it with a finger.
Remove from oven and let cool for 5 min before serving. Enjoy as is, or get creative with some toppings – shredded coconut, fresh berries, or even whipped cream would all be delicious.