No doubt about it, it's chili weather. While being cold is not one of my favorite things, I always welcome the opportunity to cozy up with a bowl of something warm and hearty.
I've been making this chili for several years (inspired by a recipe I found on A Whole New Twist) and only recently thought to put it up on the blog. This chili isn't exactly traditional. There are no beans (which I think Texans would approve of), but there is butternut squash and cacao (which I'm pretty sure Texans would not approve of). Either way, it's delicious.
It's also gluten-free and dairy-free (unless you top it with cheese and sour cream, but no judgment because that sounds delicious). So if you're following any of those ways of eating, you're set!
Side note: If you don't have an Instant Pot, don't worry. I included stove top directions toward the bottom. Also, if you don't have an Instant Pot, get one. It will make your life better.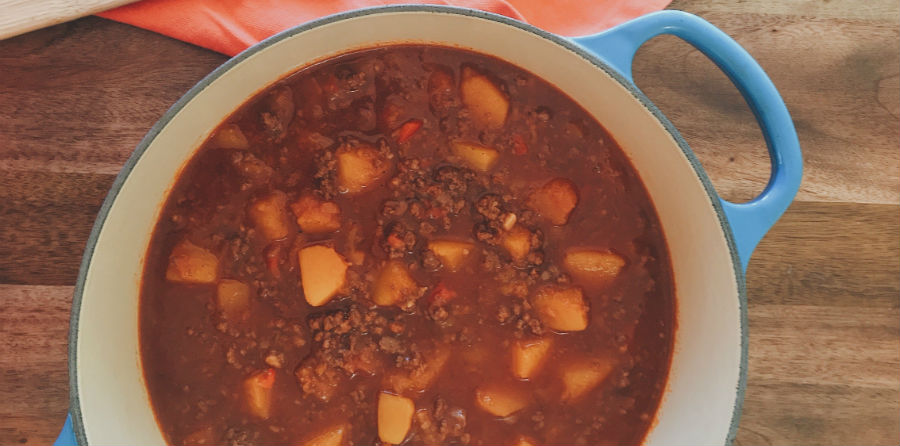 Ingredients:
2 lbs grass-fed ground beef
1 red bell pepper, diced
1 large onion, diced
1 tbsp avocado oil (or any other cooking fat you prefer)
4 cloves of garlic, minced
1 24 oz jar strained tomatoes
½ tsp turmeric
3.5 tbsp chili powder
2 tbsp cumin
¼ tsp cayenne pepper (more if you like to live dangerously)
1 tsp cinnamon
1 tsp ground coriander
½ tsp ground cardamom
½ tsp ground allspice
2.5 tsp sea salt
1 tsp ground black pepper
2 tbsp unsweetened cacao (or cocoa powder)
4 cups butternut squash, peeled + diced
Instructions:
Turn Instant Pot to sauté function. Add oil to pot along with onions. Cook, stirring occasionally for 5-7 minutes until the onions have softened and are starting to become translucent.
Add the bell pepper and garlic, and stir frequently for 2 minutes until the garlic is fragrant.
Add the ground beef, along with the chili powder, cumin, salt, ground black pepper, turmeric, cayenne pepper, cinnamon, coriander, cardamom, and allspice. Stir to incorporate and break up the meat with a spatula or wooden spoon while it browns.
When the beef is somewhat browned but still has a little pink color, add the tomatoes and cacao. Stir to combine.
Turn instant pot off. Put on lid (with the valve in the "sealing" position) and press the "meat/stew" button.
When cooking is complete and timer goes off, quick release the Instant Pot and add the squash. Stir to combine, and put the lid back on.
Hit the "Manual" button and toggle to 9 minutes. When time is up, hit the end/cancel button and let sit for 5-10 minutes before quick releasing.
Adjust seasonings to taste and serve immediately with your favorite toppings.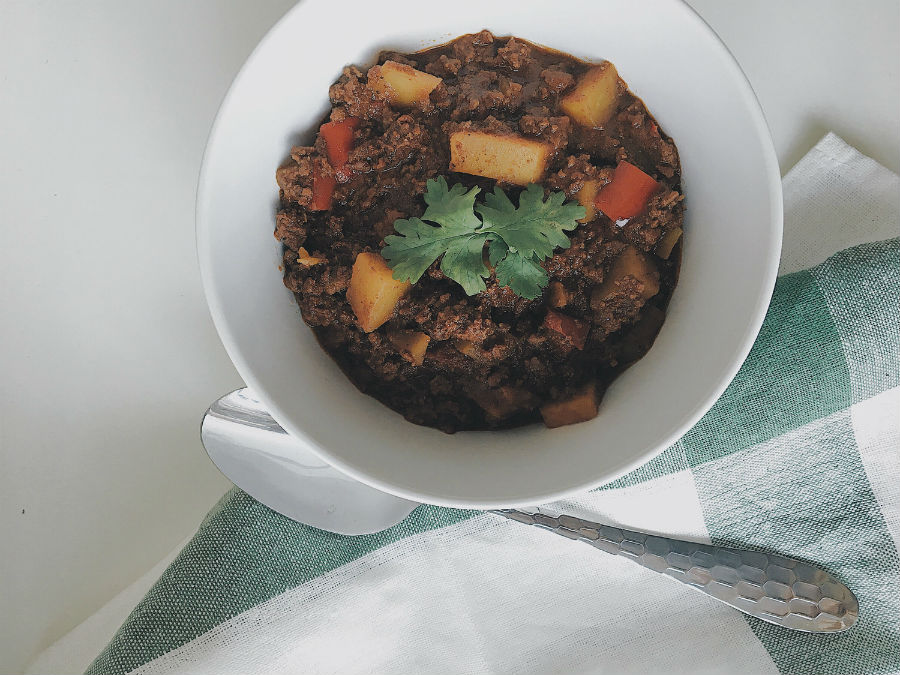 If you don't have an Instant Pot, follow the instructions above in a regular, oven-safe pot. If chili seems too thick, add a small amount of bone broth or stock.
Once liquid is added, bring to just a boil, cover and then put the pot into a 350° oven for at least an hour and a half.
Stir in the butternut squash during the last 20 minutes of the cooking time. When the squash can be easily pierced with a fork, it's ready to eat.
Feel free to add additional broth as necessary if it's still too thick at this point. Adjust the seasonings to taste and enjoy!