Have you ever had a Mexican hot chocolate? They're delicious! It's a dark, rich, warm chocolate with cinnamon and cayenne that add a depth of flavor that makes it something really special. This dessert tastes like if that drink was a healthy chocolate mousse.
This dark chocolate mousse has a dense, rich consistency with a hint of spice from the cayenne and sweetness from the cinnamon. Believe me when I tell you it's a winner.
Sometimes when you try to make a healthy version of something, it just misses the mark. Don't get me wrong, there are a million healthy desserts that are delicious, but some things just don't translate. Donuts? Give me the real deal any day. Candy bars? I'm sorry, but all the "healthy" ones taste like trash.
Honestly, I had always assumed chocolate mousse belonged in this category. I've seen (and tried) a few healthy versions that are full of avocado, and while some of them taste ok, they're not fooling anyone. So for years, I never experimented with a healthy version, because I assumed it would be underwhelming. But for some reason, I felt inspired one day and decided to give it a go, just for fun. To my absolute surprise, my first attempt was actually delicious - no joke!
I wanted to make sure I wasn't the only one who thought it tasted good, so I made it for my parents on their anniversary. My stepdad, who is...skeptical....of healthy cooking, was blown away. That's when I knew I had struck gold. This dessert is sure to please even the biggest doubters in your life.
The other thing I Iove about it is that you can make it ahead and pull it out of the fridge when you're ready for dessert. This makes it perfect for a party or when you're having people over and you want to spend time hanging out instead of toiling away in the kitchen all night.
Also, this healthy chocolate mousse is likely to work for most people who have some kind of dietary restriction. It's paleo, refined-sugar free, gluten-free, dairy-free, and sweetened only with dates. Yet somehow it achieves the monumental feat of tasting like a regular, delicious dessert.
Give it a try and let me know what you think!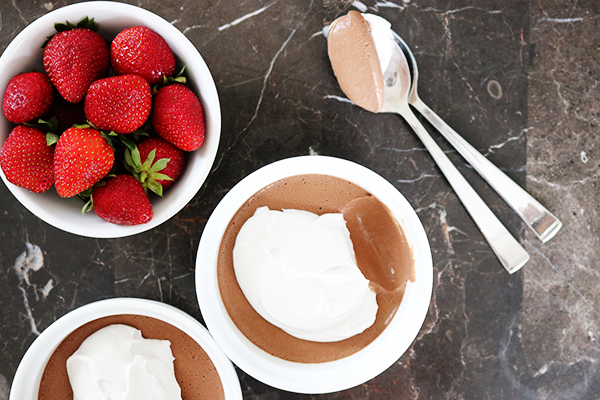 Ingredients:
2 cup + 4 tbsp full fat coconut milk

4 tbsp cacao (or cocoa powder)

10 medjool dates (pitted)

1 tsp cinnamon

1/8 tsp cayenne

3 tsp vanilla extract

2 tsp gelatin (I use

this one

)

1/2 tsp sea salt or pink himalayan salt
Instructions:
Warm 2 cups of coconut milk over low heat in a small saucepan. Add the dates, vanilla, and salt, and cook on very low until the dates are softened, about 10 minutes.
Take the pan off heat and let cool for a few minutes. Once cooled slightly, pour into blender (ideally with glass jug) and blend together with cacao, cinnamon, and cayenne on high until the mixture is super smooth.
Pour mixture through a fine mesh sieve back into the pan.
In a small cup, add the remaining 4 tbsp of coconut milk and sprinkle the gelatin on top. Let sit for 5 minutes, and then whisk together. Once thoroughly combined and smooth, whisk the coconut milk into the chocolate mixture.
Divide mixture between four ramekins and refrigerate until set, 4-5 hours.
Serve topped with coconut whipped cream, fresh berries, or anything else that sounds delicious.
Pin this recipe for later: