Without a doubt, summer has always been my favorite season. When my friends are celebrating the beginning of fall by eating pumpkin-spiced everything, I'm sitting around lamenting the fact that next summer is now a whole year away.
When I moved to San Diego, my friends and family told me I would miss having real seasons.
Nope. Didn't happen.
Now I live in Thailand where the seasons are "hot", "hot and wet", and "slightly less hot". It's only been a year, but I'm not tired of it yet.
When I was a kid, one of my favorite parts of summer was hearing the music of the ice cream truck come floating through the windows. I would drop everything, jump up, and beg my mom to let me get a treat.
If she said yes, I'd grab some change and sprint down the block after the truck, arriving red in the face and out of breath.
Everyone had their favorite ice creams: firecracker bomb pops, fudgesicles, strawberry crunch bars, ice cream sandwiches, drumsticks, or if you wanted to get crazy, the Bubble Play!
For me, it was always banana fudge bomb pops.
Something about the way the creamy banana and chocolate flavors mixed together almost made you feel like you were eating a banana split.
It's been a long time since I've seen an ice cream truck anywhere, let alone eaten a bomb pop. But for some reason, I started thinking about them a couple weeks ago, and haven't been able to get them out of my head!
So I set about trying to recreate a healthy version of my favorite childhood treat. It was actually a lot easier than I thought it would be and they turned out really yummy!
My version has the same great combo of flavors, though the banana is less artificial tasting (which I think is a good thing). And I used coconut milk to give these popsicles a creamy richness that's definitely reminiscent of the original.
Plus they have no added sugar because bananas are super sweet already and you don't need anything else to make it delicious. They're also dairy-free, gluten-free, paleo, and vegan.
Try them out and let me know what you think!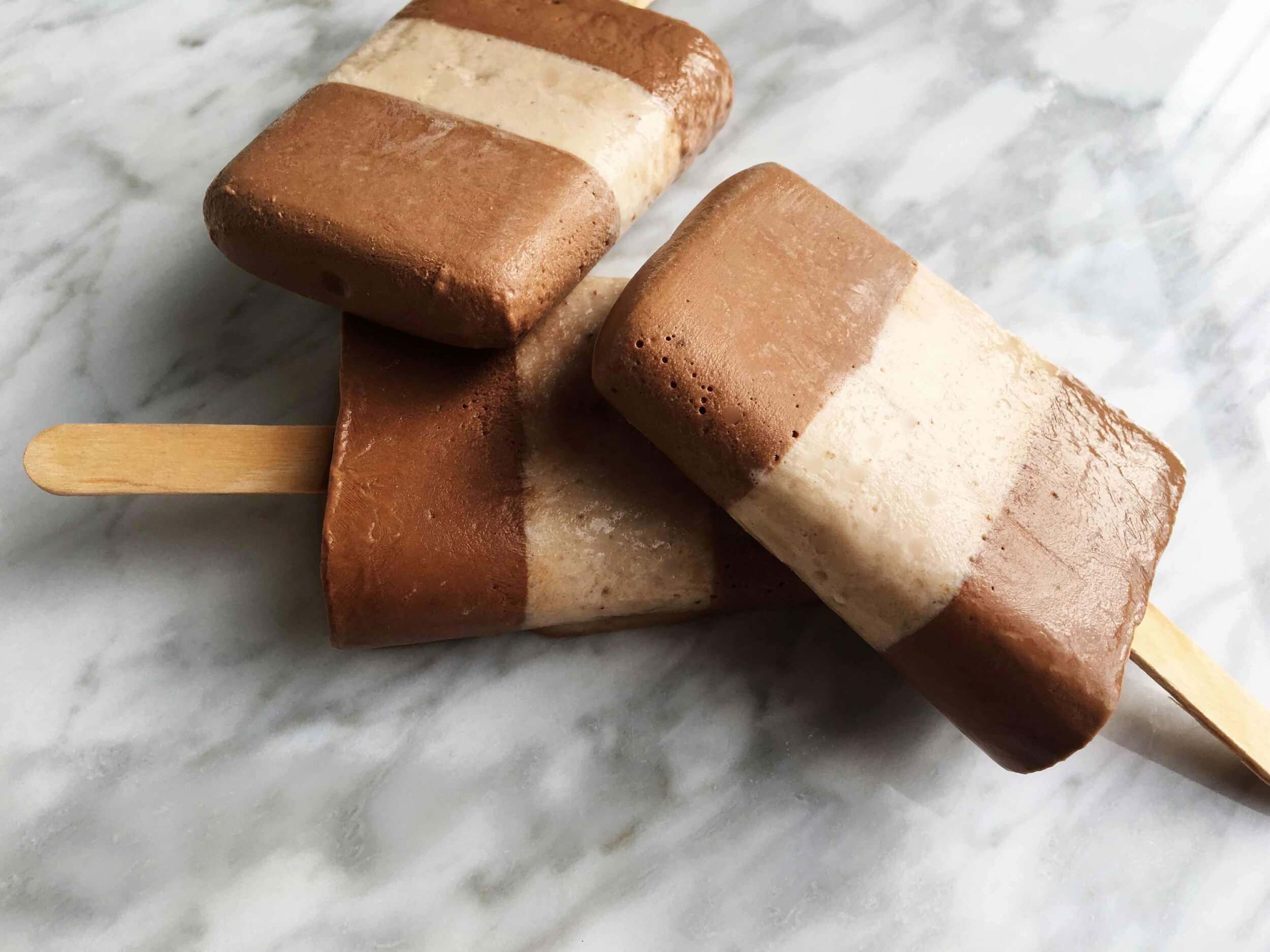 Ingredients:
Note: how much this makes depends on the size of the bananas you use as well as the size of your molds.
For chocolate layers:
2 bananas (very ripe)

4 Tbsp cacao or cocoa powder

1.5 cups full-fat coconut milk
For banana layer:
2 bananas (very ripe)

1/2 cup full-fat coconut milk
Instructions:
Combine ingredients for the chocolate layers in a blender and blend on high for 1 minute until completely smooth.
Pour mixture into popsicle molds until it comes a third of the way up the side of the mold.
Insert popsicle sticks and put mold into the freezer for 1-2 hours until mixture has hardened. Take the leftover chocolate mixture and store in a container in the fridge until ready for use.
After 1-2 hours, take popsicle mold out of the freezer and pour a layer of banana mixture into the molds, which you make by blending the banana layer ingredients on high for 1 minute. You want the popsicle molds to now be about two-thirds of the way full.
Place the mold back in the freezer and wait another 1-2 hours for the mixture to harden.
About an hour before you want to pour the final chocolate layer, take the remaining chocolate mixture out of the fridge. It will have hardened a bit in the fridge, so set it on the counter to soften.
Once the popsicles have hardened, pour the final layer of chocolate on top. The molds should now be completely full with equally-sized alternating layers.
Freeze for at least 4 hours before eating.
Side note: Turns out it's super hard to photograph popsicles in the tropics! They start melting literally the second they come out of the freezer, so the photos aren't my best work, but you can't win 'em all 🙂